Unable to connect to wallet RPC service: RPC call did not return 200: HTTP error: 0 - JSON Response: []
Our Pools Mainpage: www.suprnova.cc. Our Twitter: twitter.com/SuprnovaPools Be sure to follow us for updates and news !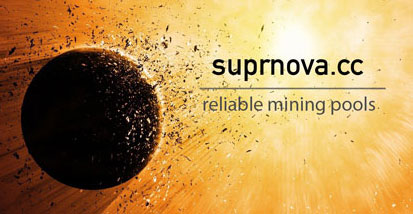 This is a
NGv2
Pool - you can use your Suprnova unified login here ! (All Suprnova Pools with this logo share the same login and worker information - no need to re-set everything !)
Suprnova's BoatCoin Pool // Algo: hmq1725 // LIVE !
stratum+tcp://boat.suprnova.cc:4156
This pool is closing due to low interest of miners, please stop mining and withdraw your funds. Thanks!
| Rank | Donor | User Name | Shares |
| --- | --- | --- | --- |
| 1 | | anonymous | 26,224 |
| 2 | | anonymous | 4,473 |
| 3 | | anonymous | 1,844 |
| Rank | Donor | User Name | KH/s | BOAT/Day |
| --- | --- | --- | --- | --- |
Pool Hash Rate

0.000

KH/s
Pool Efficiency
98.97%
Current Active Workers
0
Current Difficulty

1.00000000

Est. Next Difficulty
0.00000001 (Change in 1 Blocks)
Est. Avg. Time per Round (Network)
1193046 hours 28 minutes 16 seconds
Est. Avg. Time per Round (Pool)
zero seconds
Est. Shares this Round
65,536 (done: 49.65%)
Next Network Block
1 (Current: 0)
Last Block Found
184,480
Time Since Last Block
3649 hours 52 minutes 14 seconds
| Block | Finder | Time | Actual Shares |
| --- | --- | --- | --- |
| 184480 | anonymous | 05/18/2017 01:48:01 | 115,541 |
| 183620 | anonymous | 05/17/2017 13:46:29 | 167,049 |
| 182176 | anonymous | 05/16/2017 17:36:53 | 12,109 |
| 182107 | anonymous | 05/16/2017 16:38:42 | 40,686 |
| 181868 | anonymous | 05/16/2017 13:17:02 | 14,601 |
| 181787 | anonymous | 05/16/2017 12:08:41 | 113,767 |
| 181042 | anonymous | 05/16/2017 01:57:27 | 136,461 |
| 180394 | anonymous | 05/15/2017 17:07:53 | 21,164 |
| 180288 | ekim | 05/15/2017 15:39:37 | 29,141 |
| 180213 | ekim | 05/15/2017 14:38:01 | 1,743 |